SEAS COVID-19 Quick Link Resource Guide
Resources for all:
Key issues page - The university's key issues page is the go-to place for the latest U-M guidance on this evolving situation. This page includes information on travel restrictions, event cancellations, policies, FAQs, and tips on how to self quarantine, stay healthy, etc. It is updated by the university on a rolling basis.
SEAS Self- reporting sickness form: If you are sick with COVID-19 or suspect you have been exposed to COVID-19:

Contact your healthcare provider and self-isolate.
Students: Communicate with your instructors if you are not feeling well enough to participate in class remotely.
Complete this voluntary SEAS COVID-19 self-reporting form to help us track illnesses centrally.

Anonymous question & feedback form: All SEAS Students, faculty, and staff are encouraged to share questions, concerns, or suggestions with SEAS leadership and staff here.
Campus guide for learning, teaching, and working remotely: This ITS resource serves as a helpful guide for all audiences.
BlueJeans download link: If you have not already done so, please download the bluejeans app from here to be able to use the university's online tool used by the majority of instructors.
Zoom download link: Visit the Zoom page on the ITS website and access the tool immediately at zoom.umich.edu.
Google Meet for smaller office meetings: For smaller office meetings, or quick meetings, Google Meet is recommended rather than BlueJeans. This will help preserve BlueJeans bandwidth for courses. Google Meet is integrated into Google Calendar and therefore easier to set-up and run than Blue Jeans. This video has a quick guide on how to start using Google Meet. More resources are available here.
How to Support Other Students: If there is interest in supporting students at this time, the easiest way to do it is to go to the University of Michigan Leaders and Best site, make a gift online, and send a message to Scott Bertschy (bertschy@umich.edu) indicating that you would like your student support gift to be designated for those students most affected by the recent Covid-19 outbreak related shutdowns. https://leadersandbest.umich.edu/find/#!/give/basket/fund/322343
Primary Voting During COVID-19 - With many states still holding primary and local elections in the coming months, we wanted to share the following information with you so that you can learn how to apply for absentee or mail-in ballots. In addition, those who are in high-risk groups may wish to plan ahead to vote remotely in the November election. U.S. Absentee and Early Voting - https://www.usa.gov/absentee-voting ACLU Resources and Coronavirus Voting Information - https://www.aclu.org/news/voting-rights/keep-calm-and-carry-on-voting-how-to-vote-by-mail-during-the-coronavirus-outbreak If you have questions, please visit govote.umich.edu for more information .
Curbside COVID Screening Area at St. Joseph Mercy - Curbside COVID Screening Area at St. Joseph Mercy Ann Arbor, 5360 McAuley Dr., Ypsilanti, MI 48197. Open 8:00 AM - 5:00 PM, 7 days a week. The Curbside COVID Screening Area at the St. Joseph Mercy campus in Ann Arbor now offers COVID-19 screening to the general public. Individuals can be tested if they meet the CDC and State of Michigan testing criteria. Testing criteria includes patients that are considered high risk and present with a fever above 100 degrees AND a cough (lasting less than six weeks), OR shortness of breath. A physician's order is NOT required for screening. Screening Area is located at the Outpatient Surgery Center entrance on the campus of St. Joe's Ann Arbor. This is drive through screening. You can stay in your vehicle when you go to get tested. If you have any questions, please call the hospital's COVID-19 hotline at 1-833-247-1258.
Physical Health Support -

Virtual Care Video Visits - Talk to a doctor online
UHS Nurse Advice by Phone - 734-764-8320
Some pharmacies, like Walgreens, offer prescription delivery if you place your prescription to be filled online.
Ann Arbor Parks - Gallup, Buhr, etc. Even though the parks are open and you can visit, any facility buildings on site will be closed.
For Students:
OAP is working remotely, you can find their email contact information here.
Student resource and needs planning form: We are asking students to complete this form to help us better understand your circumstances, and to prepare for remote-learning challenges ahead in light of the current situation. While completing this form is entirely voluntary, it will help us ensure the most seamless transition to a remote learning and mentoring environment.
Capstone Funding Deadline Extension: The deadline for the SEAS Masters Project grant has been extended from April 6 to April 24, please submit your grant request online by April 24 here.
Job Search Help, including if your internship or summer job was cancelled:

seas-careers@umich.edu
Ashley Richardson, Associate Director of Career Services - ashricha@umich.edu
Jenna Bumstead, SEAS Career Counselor - jlbumste@umich.edu
Nate Geisler, SEAS Employer Relations Manager - nrg@umich.edu

Technology -

Software issues, virtual sites access, and general questions about support - Call ITS at 734-764-4357, Chat with ITS online here, or Email ITS at 4help@umich.edu
Hardware Issues - Dean of Students - 734-764-7420 or deanofstudents@umich.edu. They have supported SEAS students by providing emergency funding for computers. Please note that ITS will not be able to help you with home internet connection issues.

Funding Support:

Dean of Students - 734-764-7420 or deanofstudents@umich.edu.
The Rackham Emergency Fund, Darlene Ray-Johnson - 734-764-4400, for financial difficulties that exceed the scope of the Rackham emergency fund.

Emergency Funding:
EAS 700, 701, and 702 Enrollment: Students who wish to enroll in EAS 700 (thesis), EAS 702 (practicum), or EAS 701 (master's project) during the Fall 2020 term should reach out to Jennifer Taylor (jennperk@umich.edu). She needs to create the courses for you and give you permission to enroll.

Services for Students with Disabilities: The Services for Students with Disabilities (SSD) Office is still up and running! If you wish to register with SSD, please start by filling out our Student Intake Form and reviewing the registration process on our website. Students already approved for accommodations through SSD will continue to receive their accommodations. At times, however, specific accommodations may not transition equitably to an online format. Contact your SSD Coordinator if you have questions related to a specific accommodation.

SSD has also expanded Academic Coaching options during this time; if you are interested in receiving services, please complete the form at https://ssd.umich.edu/academic-coaching. Additionally, our PASS (Peer Assisted Study Sessions) program has resumed its regular schedule on a virtual platform and added a POWER HOUR for goal setting and strategy sharing. Students may contact PASS at passnotes@umich.edu to receive an invitation to these online sessions.

Support for students with mental health challenges:

CAPS counselor: For students who are facing mental health challenges, the SEAS embedded CAPS counselor, Jaime Yang (juemeiya@umich.edu) is also available should you wish to make a remote appointment with her.
CAPS resource: Your Mental Health and COVID-19

UM Insurance Covers Coronavirus Treatment: Information about Health Insurance Plans for Students

If you are concerned about possible health care costs if you did need to be tested or treated for COVID-19, please remember that the U-M health insurance plans, including the International Student/Scholar Health Insurance Plan, and the health insurance plans administered by the U-M Benefits Office, such as GradCare, U-M Premier Care, etc. all cover medically necessary health care costs related to testing and treatment for infectious diseases and medical conditions, including COVID-19.

Guide for adjusting your study habits: The Center for Academic Innovation recently launched The University of Michigan Office of Academic Innovation has released a guide to help you adjust your study habits to covid-19. It includes lots of helpful information, including how to stay organized, making the most of video lectures, and trading old strategies for new ones.
Maize and Blue Cupboard remains open at this time to serve students food needs.
Support for International Students:

International Center: COVID-19 Update: Leaving Ann Arbor Before the End of Winter Term 2020
Preparing Students for International Internships: We recognize that travel overseas is strongly discouraged right now due to coronavirus. However, you may want to travel overseas for an internship in the future, after the pandemic is over. The international center put together this powerpoint to help prepare you for interning outside the US.

SEAS DEI Session for Students With Children: April 7, 2-3:30 PM

For SEAS students who are balancing school and parenting in a virtual and physically distance environment, there will be a DEI session for you. Please feel free to participate on Tuesday, April 7 from 2-3:30pm. This session will be hosted over BlueJeans. If you are unable to attend but still interested in this conversation, please reach out to Sonia Joshi: soniajos@umich.edu.

To join the conversation on Tuesday, April 7, please join through:https://bluejeans.com/3612989689

1.) Dial:
1.408.614.7898 (US or Canada only)
+1.312.216.0325
International Callers (http://bluejeans.com/numbers)
2.) Enter the Meeting ID: 751451458
3.) Enter the Passcode: 8144

Online Accessibility During the Coronavirus Pandemic: Services for Students with Disabilities (SSD) has put together a FAQ about online accessibility during the coronavirus pandemic. The FAQ is at the link above.
ELI Fall Course Guide: The English Language Institute (ELI) offers a wide range of credit-bearing courses for graduate students at the University of Michigan. Courses are designed for international students who are seeking to improve their English in order to achieve academic and professional goals. ELI classes are small, interactive, and provide students with extensive one-on-one feedback. Link to the course guide

Tips for Academic Success in the Current Learning Climate: Services for Students with Disabilities put together this list of tips so you can maintain your academic success remotely.
Coping and Practicing Resilience: How do we cope and practice resilience during uncertain times? Let's remember our wholeness and connections. The UM Model of Well-being represents all those parts of us. You may want to check in with yourself and others: How are you feeling, not just your temperature, but in all dimensions of your well-being? UHS Coping and Practicing Resilience
Resources and Advice from Peers for Remote Learning: Services for Students with Disabilities (SSD) is putting together a list of resources and advice from your peers for remote learning. If you have any advice that you would like to share, please send it to passnotes@umich.edu.
Online Wellness Coaching: Wellness Coaching can help U-M students adapt to these changing times, and sessions are now done via video conferencing. You can schedule an appointment via this webpage and your coach will contact you with a link. If you don't find an appointment time that works for you in your time zone, feel free to email wellnesscoaching@umich.edu with your availability for an appointment.
For Faculty:
Continuity planning form for SEAS faculty: We urge SEAS faculty to complete this form to help us better understand the needs of SEAS' faculty members, and to prepare for challenges ahead in light of current circumstances. While completing this form is entirely voluntary, it will help us ensure the most seamless transition to a remote teaching, mentoring, and learning environment.
SEAS researcher guidelines: Please see this document for guidance specific to UM-SEAS Principal Investigators (PIs) and Research Group Leads.
SEAS guide for remote teaching: We have compiled this document which includes a wide range of resources and SEAS-specific information about online teaching. It also includes information about Academic Innovation's office hours to support online teaching.
Other resources:
For Staff:
HR COVID-19 FAQ: See this webpage for information about HR policies, reporting time under university's new temporary emergency COVID-19 one-time bank for PTO, etc.
Continuity planning form for SEAS staff: We are asking staff to complete this form in coordination with your supervisor to help us better understand the needs of SEAS' staff members, and to prepare for any challenges ahead in light of current circumstances. While completing this form is entirely voluntary, it will help us ensure the most seamless transition to a very different operational structure for the coming weeks.
IT Support: If you need help with any computing needs, please visit our Help Portal
The chart below can help you assess your risk of COVID-19 and recommended next steps.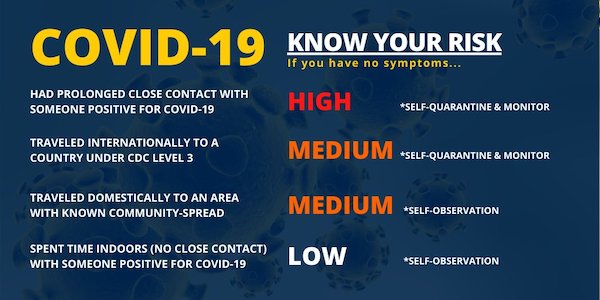 ** If you develop fever, cough, or difficulty breathing, contact your healthcare provider and self-isolate.